Outside! 2017
Merrymeeting Bay Geology Walk
Monday August 28th 4:30-6:00pm
Merrymeeting Wildlife Management Area, Bowdoinham
Contact: Ed Friedman, FOMB, 666-3372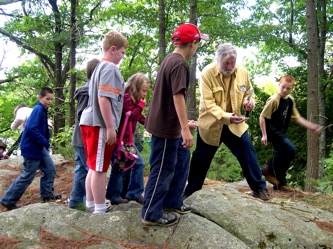 Peter Goodwin works with young geologists at Bay Day

Join Friends of Merrymeeting Bay (FOMB) on Monday August 28th from 4:30-6:00pm for an afternoon geology walk with Peter Goodwin at the Merrymeeting Bay Wildlife Management Area in Bowdoinham.
Merrymeeting Bay at the confluence of six rivers, is a tidal riverine ecosystem draining nearly 40% of Maine's water. Geologically, river-deposited sediments currently create an inland delta forming a base for many varieties of aquatic vegetation including wild rice, river bulrush and narrow-leaved cattail. This unique habitat is vital to important wildlife populations of migratory fish and waterfowl as well as recovering bald eagles. The Bay is also bisected by the lengthy Norumbega Geologic Fault running at least from Casco Bay to New Brunswick. Going back in time, this area was deeply covered by a continental glacier. Between the ice and subsequent erosion, a number of bedrock outcrops are presently exposed, offering clues to the past.
Peter Goodwin, former Professor of Geology at Temple University in Philadelphia, will lead this walk focusing on observation and interpretation of outcrops in the Management Area along the Cathance River and Bay. We will try to answer basic questions such as: Why is this area higher than Merrymeeting Bay? Why is this point of land oriented North-South and can we replace the label of "ledge" with "bedrock"? Pre-registration for the walk is required and may be done by calling Ed Friedman at 666-3372.
The next FOMB Outside 2017! events will be two Swan Island tours with Jay Robbins. The first, by land on September 8th from 9:15am-1pm ($8 Island Fee) and the second, a circumnavigation by "sea" (or river), on September 17 from 3:30-5:30pm (Island donation appreciated). Pre-registrations for both Swan Island outings are with Jay Robbins at 737-2239, are required and trip space is limited. Summer Outside! series is the warm weather counterpart to FOMB's popular Winter Speaker Series. These events are mostly free and are open to the public. For more information: www.friendsofmerrymeetingbay.org .